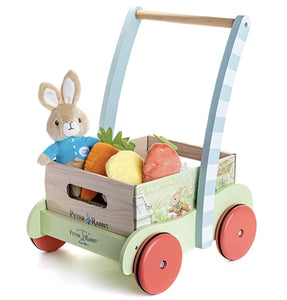 Garden Wagon Play Set: Kids Preferred Presents This Cute, Charmingly Detailed Set With A Wooden Garden Wagon, Removable Cardboard Crate, & Plush Toys. Take Your Garden Wherever You Go For Active, Imaginative Play.

Early Learning: The Peter Rabbit Wooden Garden Wagon Is Designed For First Walkers And Pretend Play. It Allows Baby To Go From Floor Play To First Steps And Offers Fun Activities In All Stages Of Development.

Playful Toys: This Play Set Features A Wooden Wagon (13" X 9" X 15") With A Removable Cardboard Crate (10" X 8.5" X 5") And 6 Plush Toys Including A Turnip, Radish, Carrot, Cabbage, "Dirt" Garden Bed, And 8.5 Inch Peter Rabbit.

Toddler Essential: This Toy Set Is An Ideal Gift For 1St Birthdays, Baby Showers, And Is Popular For Boys & Girls Ages 18 Months And Up. Plush Toys Are Machine Washable & Bpa Free. Easy Assembly.